Customer Reviews
Write a Review
Ask a Question
Filter Reviews:
brushes
hair
brush
hair brush
daughter
granddaughters
head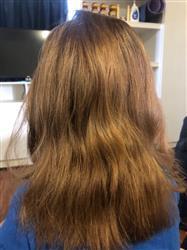 04/01/2019
Excellent hair brush
I love the brush, it makes my life so much easier brushing my 3 daughters hair. No dramas at all.
21/04/2020
Best brush for sensitive heads!
Love it! I brought it for my 5 year old daughter whohas a very sensitive head, especially in certain spots. Normally she's crying in pain and wriggling and fighting me the whole time. She no longer cries and enjoys when I brush her hair, she said "it feels lovely" She now brushes her hair by herself a few times a day, kind of relaxes her!!! We love it so much I ordered several more, one for my sister, one for each of my nieces and 1 for me!
Chantelle M.
Australia
09/03/2020
Happy hair brush
I brought the brushes for my two granddaughters one age 5 and the other one is age 8 bth have long thick hair both had lots of tears and hated getting there hair brush now they are happy and no more tears so thank you
Janet P.
Australia
24/02/2020
Saved my hair brushing sanity
This brush is amazing and my daughter is brushing her hair everyday without yelling, crying and screaming.
Alinta W.
Australia
16/12/2019
Brush massage
This brush has lived up to all the ratings, ads and hype. I have thick, long and wavy hair that is usually mum bun into a hat, for work in the farm. I hadn't brushed may hair for a week before I used this brush and admit always takes too long and hurts or I break a brush. This was amazing, feels like a head massage. 5 year old girl always saying it hurts or don't brush my hair, is loving the hair brush, doesn't even notice me brushing her knots now, 6 year old boy finally brushing his own hair, as it feels good. Great brush, so glad I finally decided to buy it
Kirsty F.
Australia